Hunters in Wild Hearts should use these karakuri when fighting a kemono.
Wild Hearts is the newest game in the "hunting" genre. It is often compared to Dauntless and Monster Hunter, which came out before it. The karakuri is the main thing that sets it apart from its peers, though.
Karakuri are unique structures that players can build to help them in different ways. There are three different kinds of them: basic, fusion, and dragon. But in fights, only the first two are important. Basic karakuri can be used as equipment, and if they are put together in certain ways, they can become fusion karakuri. This means that there are many options for what to use in a Wild Hearts fight.
Firework Karakuri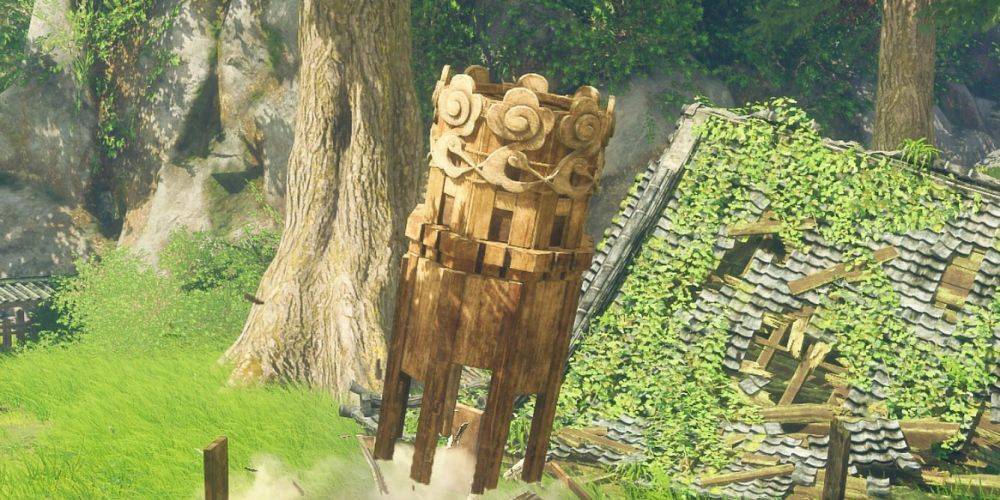 The firework is not a direct-damage karakuri. Once it is built, it fires a projectile into the air that explodes into a storm of fireworks, which distracts kemono that are nearby. It usually doesn't do much to giant kemono, but it has a high chance of knocking flying kemono out of the sky.
Even though the fighting in Wild Hearts is pretty fluid and mobile, having a surefire way to bring the fight to the ground is a useful tool. The firework can be made with two stacks of three torch karakuri each. It can be used for the first time during the fight with Dreadclaw.
Spring Karakuri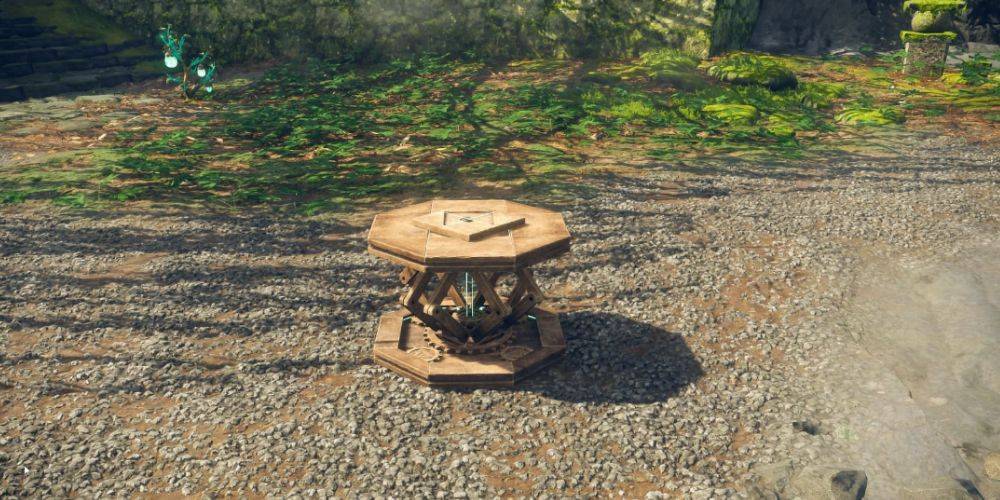 The most useful part of the basic karakuri is by far the spring. Even though they can all be used in battle, the spring is the best because it is the simplest. Once the spring is in place, players can touch it and be thrown in the direction they were going.
The best way to use this launch is to avoid attacks, since it has a lot of invincibility frames that can help players avoid attacks they wouldn't have been able to avoid otherwise. It also lifts players slightly off the ground, letting them attack from above after using a kemono to close the distance.
Starbomb Karakuri
Starbomb karakuri are a type of explosive trap that can be used to hurt kemono very badly. They are similar to barrel bombs in Monster Hunter. If a kemono lands on it, it will cause it to explode before its scheduled time, making it a useful trap.
During the fight with the Sporetail kemono, the player can get the starbomb if they have the spring and torch karakuri equipped. A spring, a torch, and another spring karakuri can be stacked to make it.
Bulwark Karakuri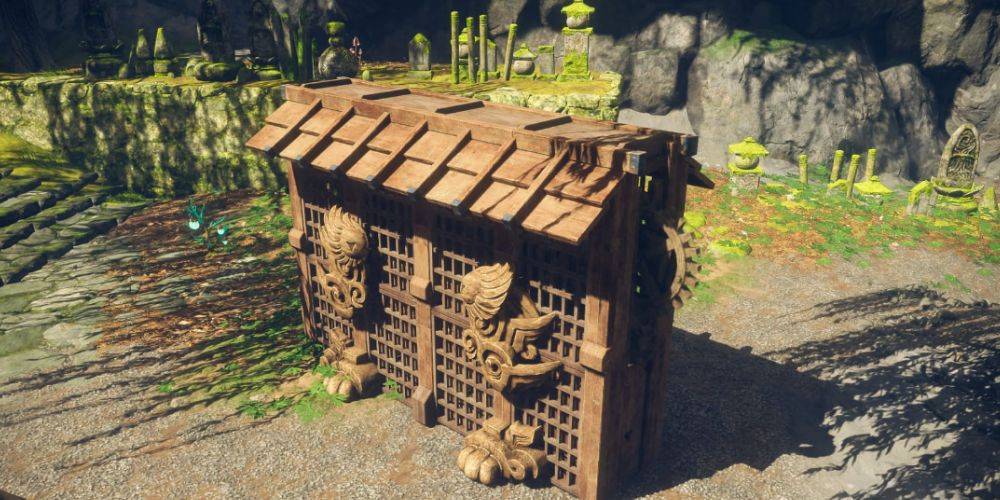 Wild Hearts doesn't have any weapons with a built-in shield because the game tends to value mobility over defense. But the bulwark is important for those who want a more traditional defense tool. It makes a karakuri wall that players can hide behind, and any kemono that charge right into it can be stunned.
You can get the bulwark during the fight with Kingtusk, which is pretty early on. It can be made by putting together two stacks of three crate karakuri next to each other. It has a limited amount of health.
Chain Trap Karakuri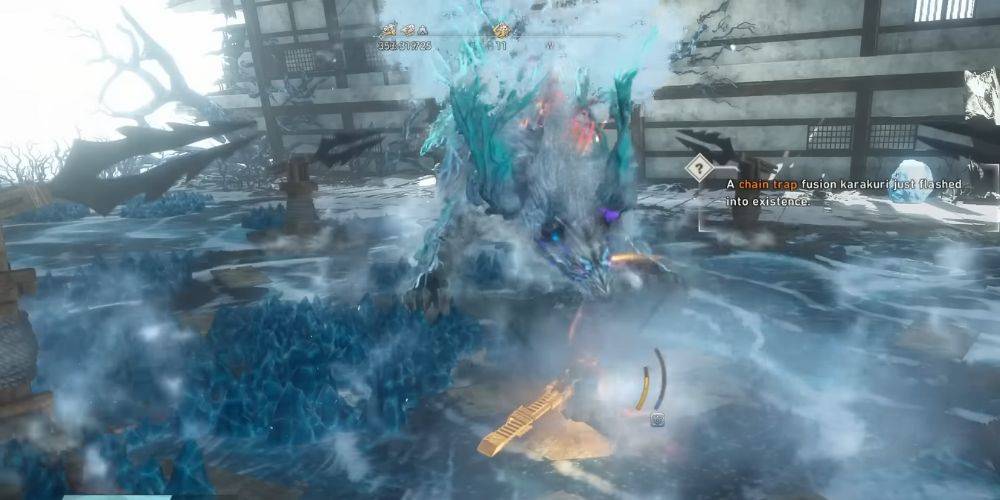 Like the starbomb, the pitfall trap in Monster Hunter is a direct match for the chain trap. Once the trap is set, it will go off when a kemono runs over it. Several spears will hold the kemono in place, giving players a big chance to do damage, especially with attacks that require a lot of effort.
The first time you get the chain trap is when you fight Deathstalker, as long as the stake karakuri has already been unlocked. Two stacks of two stakes and a crate karakuri each can be used to build it.
Harpoon Karakuri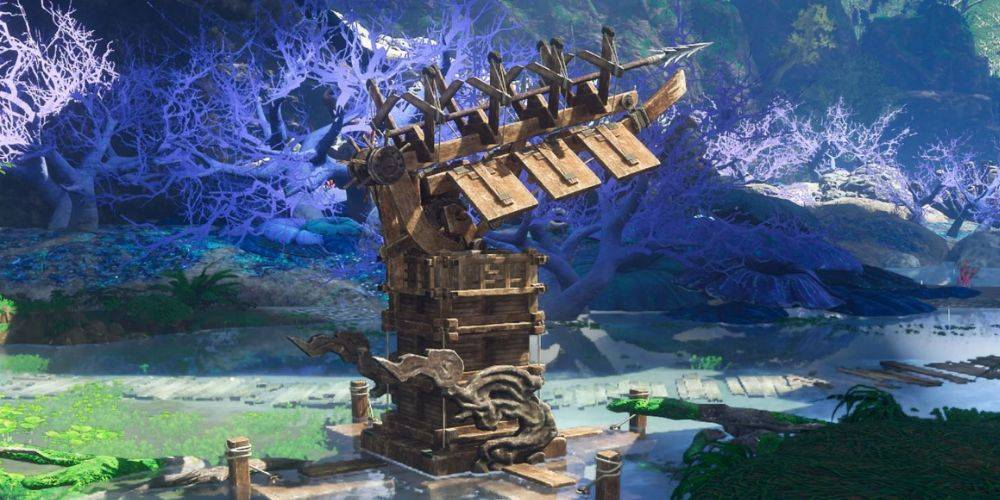 The harpoon karakuri works like the chain trap, but it does a lot more damage and has more uses than the chain trap. Once it's in place, the harpoon will shoot at a nearby giant kemono, piercing it and holding it still for a moment so that damage can be done.
It can also kill flying kemono, which makes it a more expensive alternative to the firework karakuri. Getting it is part of the battle with Amaterasu. Two stacks of two springs and one stake karakuri each can be used to make it.
Celestial Shield Karakuri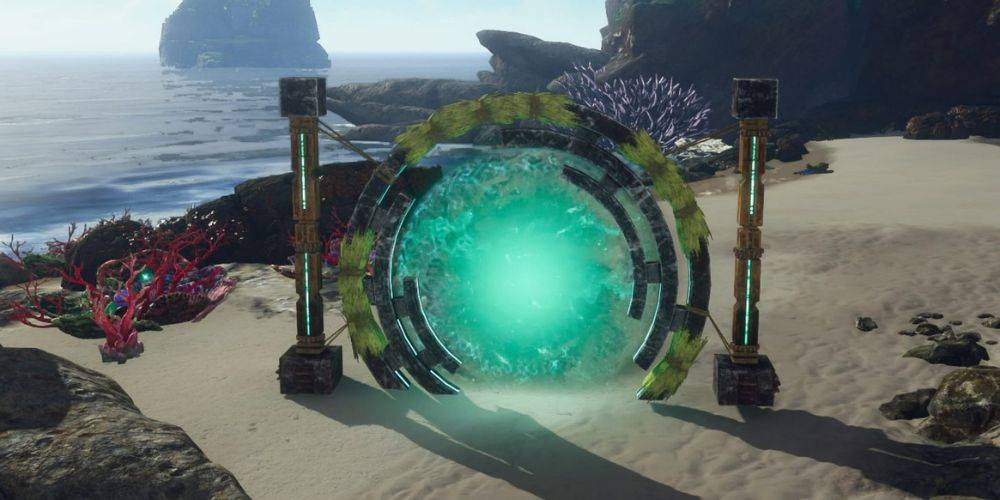 The celestial shield karakuri is one of the last fusion items that can be made in Wild Hearts. It can be made when fighting Emberplume. Celestial Shield is by far the most useful of all karakuri. It puts up a gate that, when passed through, gives players a shield that lasts as long as the gate is on the field.
The shield it gives will stop one kemono attack, including the damage and knockback it causes. This could save your life in a tough fight. It can be made by stacking a celestial thread karakuri, a crate, and another celestial thread karakuri twice.
Celestial Cannon Karakuri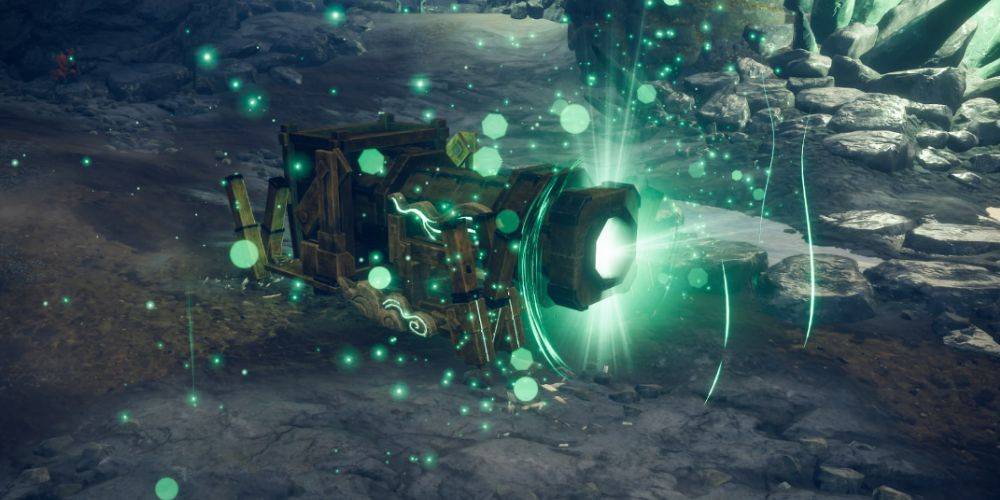 The celestial cannon is another late-game fusion karakuri. That can be gotten by fighting Golden Tempest with the celestial thread and torch karakuri equipped.
It is by far the most impressive karakuri in 8 Ball Pool game. It creates a huge cannon that fires at giant kemono and does a lot of damage. To make up for this, though, it takes a long time to turn on, so it's easy to miss if you don't aim and time it right. Two stacks of a celestial thread, a torch, and another celestial thread karakuri can be used to make it.
You can play Wild Hearts on your PC, PS5, or Xbox Series X/S.